Meet CHLI's Fall 2023 Global Leaders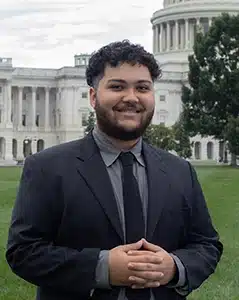 Adel Antonio Almazawi
Heritage: Dominican–Syrian American
School: University of Georgia
Major: Political Science, concentration in International Relations
Adel Almazawi was born in Orlando, Florida, to immigrant parents. His father is from Syria, and his mother is from the Dominican Republic. He is in his second year of college at the University of Georgia, following his passion for geopolitics and majoring in Political Science with a concentration in International Relations. Throughout his time as a student, he has completed two independent studies in Hamburg, Germany, with hopes of returning in the future. He was also a part of the Gwinnett County Bar Association's Law Explorers, which introduced high school students to the legal field.
Adel hopes to one day become an advocate for those without a voice and hopes this internship will be a valuable steppingstone into the field of politics.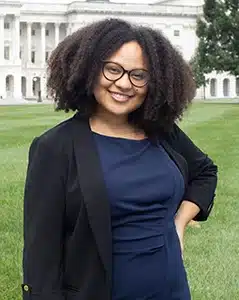 Annett Reyes-Alvarez
Heritage: Cuban-American
School: Florida International University, Honors College
Major: International Relations, minor in Political Science
Annett Reyes-Alvarez is a Cuban-American undergraduate senior student from Florida International University, Honors College, pursuing a bachelor's degree in international relations with a minor in political science. Ever since she was young, she has been fascinated by different cultures and how they interact. As she learned more about global politics and diplomacy, she knew she wanted to pursue a career in foreign affairs.
Throughout her academic career, she has taken various courses that deepened her understanding of global issues, from human rights to international security. She also had the opportunity to intern for the Honorable Frederica S. Wilson, the representative of her district, where the staff showed her the inner workings of the House of Representatives and the many responsibilities that come with a career there.
Ultimately, she aims to work for a non-profit organization or think tank where she can use her skills and passion to make a difference in the world.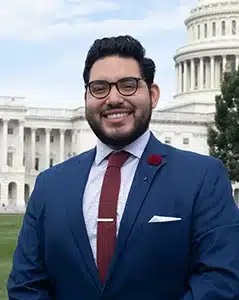 Guillermo Ernesto Lemus
Heritage: Salvadoran
School: Bringham Young University-Idaho
Major: International Studies, focused on Public Policy and Administration
Guillermo Lemus is a dynamic and recent graduate poised to make his mark in international affairs. A Montreal native with Salvadoran roots, Guillermo's unique heritage has shaped his passion for global dynamics and public policy.
Having just concluded his studies at Brigham Young University-Idaho (BYU-I), Guillermo obtained a degree in International Studies, concentrating on Public Policy and Administration. Fluent in French, Spanish, and German from his formative years, Guillermo's multilingual foundation enabled him to form cultural connections that transcend borders. During his tenure at BYU-I, Guillermo embraced the opportunity to learn English and Arabic, further enriching his linguistic arsenal. This linguistic versatility facilitated meaningful interactions with C-level executives from distinguished companies such as Uber, DoorDash, and Airbnb. His language skills opened doors to international business and deepened his understanding of cross-cultural intricacies.
Guillermo showcased his commitment to academic excellence and community leadership as an esteemed Alpha Sigma Pi society member. His enthusiasm for global affairs and public policy manifested through active involvement in discussions and initiatives to address pertinent global challenges.
Endowed with an incisive analytical understanding and an unwavering commitment to unraveling complex geopolitical puzzles, Guillermo is now poised to augment his skill set and expand his professional network. His next venture entails pursuing a Master's in Nonproliferation and Terrorism at the Middlebury Institute of International Studies. This new chapter in his journey reflects his steadfast dedication to enhancing global security and stability.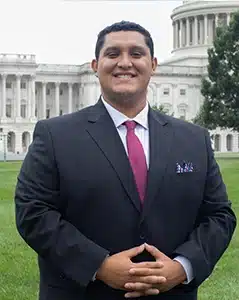 Jacob Rafael J. Garcia
Heritage: Mexican American
University: Regis University
Major: Business administration, Management 
Jacob Rafael J. Garcia was born in Trenton, New Jersey, and raised in Los Angeles, California. He holds a degree in Business Administration, specializing in Management, from Regis University, recognized as a Hispanic Serving Institute in Denver, Colorado.
During his university tenure, he gained experience in communications, marketing, and web development roles. Serving as an RA and lead RA for three years, he actively supported fellow students' academic and social growth.
Jacob's motivation lies in contributing to the public sector, focusing on public policy, marketing, and communications. His motivation helps him achieve his commitment to fostering more compelling connections between Colorado government initiatives and the public.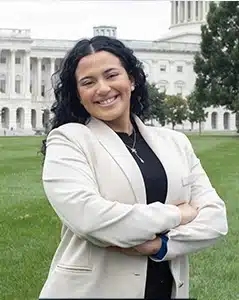 Jerica Rosa Morales Hernández
Heritage: Puerto Rican
School: Inter American University of Puerto Rico
Major: Political Science and Education, focus in Modern Languages
Jerica Rosa Morales Hernández is a dedicated and ambitious university student pursuing a double major in Political Science and Education with a concentration in Modern Languages at the Interamerican University of Puerto Rico. Her passion for the intricacies of political systems and the power of education has driven her to pursue a unique academic path. With a strong aspiration to make a lasting impact, Jerica's long-term goals encompass a multi-faceted career. She envisions herself as a future lawyer, advocating for justice and change while also contributing to the literary world as a book writer. Her desire to influence minds and make a difference extends to her short-term goal of becoming a professor. This ambition has led her to aspire to complete a master's program in Humanity and Cultural Studies at the University of Puerto Rico.
Jerica's dedication to her chosen field is evident in her academic pursuits and early professional experiences. She has completed internships with notable figures such as Senator Robert Menendez from New Jersey, Representative Gretchen M. Hau from Puerto Rico's Guayama district, Senator Marially Gonzalez from Puerto Rico's Ponce district, and the Department of State. Furthermore, she has expanded her horizons through research and analysis internships with the Jose Ortega & Gasset Foundation in Argentina.
Driven by her love for her homeland, Jerica's ultimate dream is to represent Puerto Rico as a powerful advocate for addressing the issues and inequalities surrounding the island and its population. Her academic journey, determination, and commitment position her as a future leader ready to make a lasting impact on both a local and global scale. Given Jerica's dream of representing Puerto Rico and addressing its issues, the cultural awareness she would gain through her work at CHLI would be invaluable. Exposure to the organization's initiatives could deepen her understanding of the challenges the Hispanic community faces and empower her to play a pivotal role in addressing these concerns.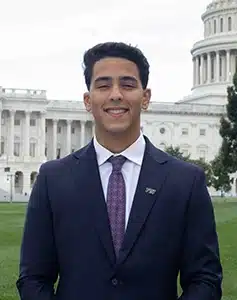 Kelvin Bencosme
Heritage: Dominican-American
University: Florida International University
Major: Political Science & International Relations
Kelvin Bencosme was born in Queens, New York City, to two immigrant parents from the Dominican Republic. Inspired by the resilience displayed by his family members in the face of adversity, Kelvin found his inspiration to enter the political arena through the unwavering support and influence of his family, especially his brother, whose dedication to public service ignited his passion for creating positive change. Kelvin's father's devoted police career, upholding justice, and his mother's public service involvement, highlighting the impact of dedicated individuals, solidified his commitment to uphold fairness, accountability, and carry forward a legacy of service.
Kelvin is currently a student at Florida International University and is expected to graduate with a Bachelor's degree in Political Science and International Relations and a Pre-Law certificate. During his time at FIU, Kelvin attained a position in Student Government and conducted a student body election for over 50,000 students. Kelvin later interned for a political consulting firm, Capitol City Consulting, combining his passion for politics and the world of sports entertainment. Additionally, Kelvin furthered his professional journey through a Legislative internship in local government for Miami-Dade County District 11. He worked on briefings and summarizing legislation, engaging with constituents, and canvassing for the commissioner's priorities. Kelvin's first corporate employment was for Legacy Residential Group, where he learned the role of service and real estate consulting.
As a participant in the Global Leaders Internship Program, Kelvin's aspirations involve gaining insights into the legislative process and a steppingstone toward attending law school.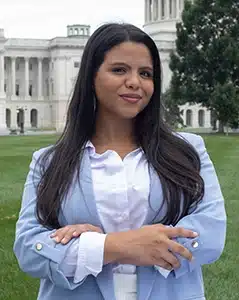 Sophia Del Mar Ortiz Vicente
Heritage:  Puerto Rican
University: University of Puerto Rico, Río Piedras 
Major: Public Relations, Advertising, and TV Production
Sophia was born and raised in the southern region of Puerto Rico. She is the eldest daughter of two teachers whose strong ethical values have influenced and encouraged her to always fight for what is right with her head held high. Through her years of study in the arts, she recognized the social importance of telling stories through the camera lens. This led her to pursue her passion and produce and direct short films and documentaries that capture stories about human trafficking in Puerto Rico, substance abuse, student strikes, and LGBTQ+ activist groups.
During her third year of college, Sophia realized the importance of legislative work in protecting minorities and the substantial impact that legislation can have on communities like hers. This inspired her future career plans and sparked her interest in the legal field with hopes of attending law school.
With a determined mindset to achieve her goals, Sophia completed the Jorge A. Ramos Comas Legislative Internship at Puerto Rico's State Legislature and is now a Fall 2023 Global Leader for the Congressional Hispanic Leadership Institute.