Meet CHLI's Spring 2023 Global Leaders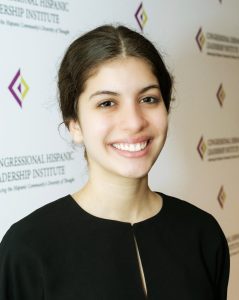 Amelia Raudales
Heritage: Argentinian–Honduran American 
University: Florida International University 
Major: International Relations 
Andrea Salazar-Zegarra
Heritage: Peruvian 
School: University of Oklahoma 
Major: International Development
Andrea Salazar-Zegarra was born in Lima, Peru. Andrea is the daughter of two Peruvian immigrants; all three recently became U.S. citizens. She grew up in the United States, arriving first in Puerto Rico as a one-year-old, where she lived with her parents for approximately four years. They then moved to Massachusetts for eight years, Colorado for two years, and lastly Oklahoma, where Andrea attended high school and college. Because of her family background and her experiences growing up in international communities, Andrea is passionate about immigration, international affairs, and social justice.  
Andrea is a recent magna cum laude graduate from the University of Oklahoma. She earned a Bachelors in International Development with a minor in Electrical and Computer Engineering. During her time at OU, Andrea is proud to have contributed to the Student Learning Center's mission of supporting students by working first as a Peer Learning Assistant and a Study Skills Consultant, and then becoming part of the leadership team as the Marketing Coordinator. Her commitment to the Student Learning Center is reflective of her passion to support others, which she continues through volunteering outside of OU. She is a Hispanic Scholarship Fund (HSF) Alum. She served as a mentor during their 2022 Entrepreneurship Summit and hopes to do so again in future Summits. She is also a member of the Phi Beta Kappa Honor Society. During Andrea's undergrad, her interest in law led to her participation in Penn State's Explore Law program. Andrea's goal is to use her education and skills to advocate for excluded and underrepresented populations and pave the way for future generations. She hopes to become a leader within the U.S. Hispanic community.  
In DC, Andrea looks forward to developing leadership, advocacy, and professional skills. She is excited for the opportunity to learn from leaders and make new connections, including the interns and fellows at CHLI. As the first in her family to pursue a public policy/international affairs career path, Andrea plans to make the most of her time in DC, using this opportunity to jump start her career in international affairs.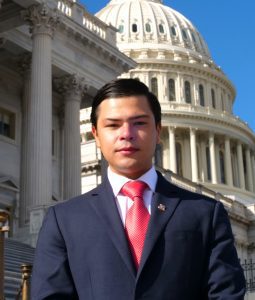 Andres Gomez
Heritage: Cuban American  
School: Loyola University New Orleans  
Major: Business Administration, Finance 
Andres Gomez is a recent college graduate from Loyola University New Orleans with a degree in Business Administration and a major in Finance. Hailing from Miami, Florida, Andres is a Cuban-American with a strong desire to make a positive impact in his community, with his main interests being fiscal policy, veteran affairs and foreign operations. In the fall of 2023, Andres will be starting law school with the goal of deepening his understanding of the legislative process, while making valuable connections in Washington D.C.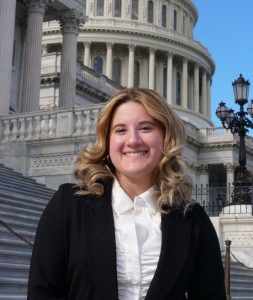 Claudia B. Marrero Vazquez
Heritage: Cuban  
University: Florida International University  
Major: Criminal Justice and Political Science 
Claudia was born in Guantanamo, Cuba, where she lived for nine years before moving to Miami, FL, with her family. Growing up as an immigrant, Claudia learned to take advantage of the possibilities presented to her and used them to expand her education. At the age of ten, Claudia decided she wanted to become an attoney and later discovered her passion for criminal law and politics. After graduating High School with the Cambridge diploma and her Associates degree from Miami Dade college, she decided to pursue a double major at Florida International University. As a member of the E-council for Phi Alpha Delta FIU Chapter, she was elected Chair for the Mock Trial team where she took 3 teams to the national competition and won 2nd and 4th place. She was also the outreach coordinator for EWIL where she recruited several speakers to share their legal journey and help inspire women in the law track. Claudia will be graduating from FIU in the spring of 2023 with her bachelor's in Criminal Justice and Political Science. Claudia aspires to attend law school after graduating college and pursue the criminal law track to become a district attorney. Claudia's interests include reading books and learning about new bills and political issues around the world. As a new member of CHLI Spring Global Leaders cohort, Claudia is looking forward to helping improve the representation of Hispanic and Portuguese immigrants in the government. Claudia believes that changes and improvements come with time, and it is up to the new generations and leaders to enact this change.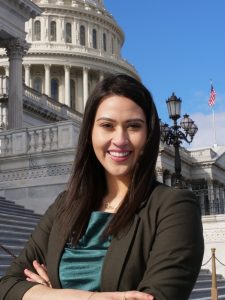 Diana Garcia Ornelas
Heritage: Mexican American  
School: Northern Arizona University  
Major: Strategic Leadership 
Diana Garcia Ornelas was born and raised in Mesa, Arizona, by her Mexican immigrant parents who migrated from Nuevo Casas Grandes, Chihuahua, Mexico. She is currently a senior at Northern Arizona University pursuing a bachelor's degree in Strategic Leadership. Growing up in a mixed-status family led her to develop a passion for advocacy and education. 
Diana began organizing with the nonprofit organization, Aliento, five years ago after witnessing the inequities her DACA and undocumented peers faced as they tried to attain post-secondary education in her home state. During her time with Aliento, she took various roles, including, Executive Hub Officer, Student Fellow, and Lead Intern. Due to the organizing efforts of herself and her peers, they were able to engage over 60,000 voters to pass a historic pro-immigrant law that allows every Arizona high school graduate, regardless of their immigration status, to have access to in-state tuition and publicly funded scholarships. During the 2022 election season, Diana also was on-boarded as a fellow with the nonprofit SHEVOTES to mobilize young female voters on her campus to participate in the election. Shortly before heading out to DC, Diana assisted the immigration team at JacksonWhite Law.  
During her time in DC, Diana hopes to amplify her leadership skills, make countless connections, and gain a deeper understanding of the legislative process to fortify her legislative research and writing skills.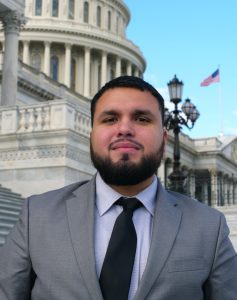 Osvaldo Grimaldo
Heritage: Mexican American
University: University of Texas RioGrande Valley
Major: Sociology
Osvaldo Grimaldo is a first-generation Mexican American born and raised in Roma, TX. Osvaldo is, a proud first-generation college student, currently pursuing his bachelor's degree in Sociology and a minor in Legal Studies from the University of Texas Rio Grande Valley and is set to graduate in May 2023. Throughout his undergraduate and professional career, he has worked tirelessly to expand his knowledge of public policy and develop his ability to nd common ground with others. Ever since Osvaldo was a child, he has been a mariachi musician performing the music of his ancestors allowing him to feel closer to his roots, and heritage. Bringing pride and joy to his Mexican culture by performing across the country, Osvaldo witnessed rst-hand how music can unite people despite their political ideologies. Furthermore, Osvaldo has always had an interest in politics and serving his community in various ways. This ultimately motivated him to serve in a wide variety of leadership positions at UTRGV, one of the top Hispanic Serving Institutes in the U.S. This included serving as a UTRGV Student Government Secretary, President of the Civic Engagement Alliance, and Lead Resident Assistant, leading a dormitory of 350+ freshmen students and a sta of Resident Assistants. Due to his success as a student leader and contributions in community service, Osvaldo was selected as a councilman for U.S. Congressman Vicente Gonzalez's Youth Advisory Council, the only congressional council of its kind in the state of Texas.
Osvaldo served as the rst ever Democracy Fellow at UTRGV with Campus Vote Project, a national civics organization whose mission is to better improve civic life at the university level. Furthermore, he was selected to serve as a statewide Texas Civic Ambassador with the University of Texas at Austin Annette Strauss Institute for Civic Life. All while serving in these capacities resulted in Osvaldo being awarded the 2022 ALL-IN Student Voting Honor Roll , a national recognition given to students who are helping to institutionalize nonpartisan democratic engagement and increase college student voter participation. After his term of service in these positions, Osvaldo continued his professional development by pursuing his civic work in the community. He spent Summer 2022 working at a local law rm, and volunteering with the Texas Turnout Coalition, a non-prot organization whose focus is to register the marginalized minority communities of the Rio Grande Valley to vote. His eorts are all fueled by his passion to have the Hispanic population's voice heard in our government.
As a CHLI Global Leader, Osvaldo hopes to further enhance his understanding of public policy while advocating for underrepresented groups similar to the ones he grew up with in the RGV.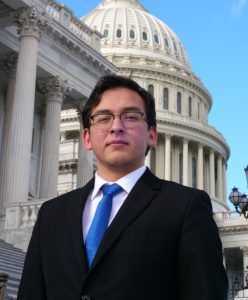 Carlos Eduardo Padilla Monroy
Heritage:  Mexican 
University: Florida International University 
Majors: International Relations & Political Science 
Carlos was born in Mexico and was raised in Mexico, Colombia, and Spain until he moved to Miami, Florida for college. He is a senior currently completing his majors in political science and international relations with a minor in public administration as an honors student at FIU. 
Previously, Carlos has led and organized multiple events as a student leader that connect Federal agencies, students from universities across the nation; and advocacy projects for his university from the Capitol all the way to the Pentagon as an intern at FIU in Washington, D.C. Moreover, he is a co-manager of a global campaign to reduce economic informality alongside the Greek economist Elena Panaritis and her think tank, Thought for Action. In this campaign Carlos has travelled to assess the levels of informality in countries such as Peru.  
As a cosmopolitan person and through his courses of study, Carlos seeks to become a key player in Western hemispheric security. Hence his interest in foreign policy, security studies, international law, and non-state armed actors in the Americas. 
Carlos aspires to attend graduate school and pursue higher levels of understanding of the international arena. In Washington, D.C.  he will focus on learning firsthand how the American Domestic and Foreign policy directly affect the world.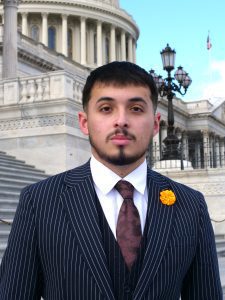 Christian Arceo
Heritage: Mexican American  
School: Illinois State University  
Major: Political Science 
Christian Arceo was born and raised in Berwyn, IL. He is a proud third generation Mexican American. He was raised by his single mother and has three younger siblings. He is currently a senior at Illinois State University, majoring in political science. While on campus, he has advocated for Hispanic and Latino students like himself and served in an executive role for the first-generation organization on campus. He is on track to graduate with Summa Cum Laude honors.   
After graduating, he plans to stay in DC and work on the Hill or in government relations. He is very passionate about education, housing, and immigration issues as those issues have sparked his interest in a career in public service. Prior to CHLI, he participated of summer internships for Congressman Adam Kinzinger (IL) in 2021 and Senator Rob Portman in 2022 (OH).