CHLI Spring 2022 Global Leaders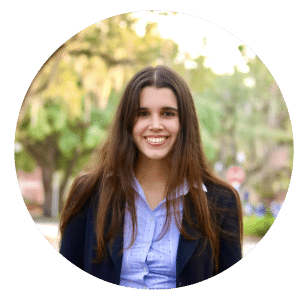 Audrey Weigel
Heritage: Cuban-American
University: University of Florida
Major: Computer Science
Audrey was born and raised in Miami, FL. As a child, she was influenced by the strong Latinas in her family. Her most significant role models are her grandmother and great-grandmother due to their resilience and the struggles they overcame as mothers when immigrating to the United States. 
As a high school student, she participated in Girl Who Code's Summer Immersion Program. This program showed her how passionate she is about technology and is the main reason she is now studying Computer Science at the University of Florida. She worked as a Teaching Assistant for Girls Who Code over the past summer and is passionate about computer science education. Audrey hopes to work in the non-profit sector in the future, bringing computer science education to low-income communities. For this reason, she is passionate about technology policy and seeing the ways policy affects companies across the board.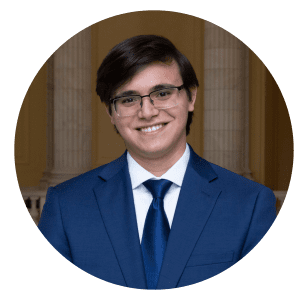 Daniel Carrillo
Heritage: Venezuelan
University: University of Florida
Major: Economics
Daniel Carrillo was born in Caracas, Venezuela, where he lived for fifteen years before moving to Miami, Florida. A senior at the University of Florida, Daniel decided to major in economics and minor in philosophy to better understand his home country's socio-economic downfall. Daniel strives to use his voice as a bridge that connects the pains, worries, opinions, and thoughts of his Hispanic and other underserved communities with the development and analysis of public policy in the United States. He believes that voicing first-hand understanding of socio-economic and political collapse is imperative in preventing similar situations. In pursuit of this goal, Daniel has participated in seminarsinAustria andChina, where he expanded his multicultural and global background and gained a deeper sense of the international consequences of policymaking. Daniel enjoys reading literature and watching movies that explore or criticize social norms, identity, inequality, and technology in his free time. Similarly, he loves debating economics, politics, and ethics with friends and family.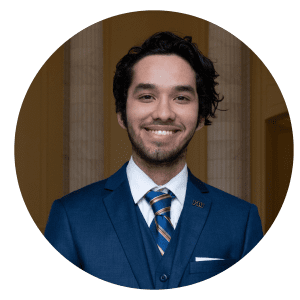 Gerald Torres
Heritage: Puerto Rican – Panamanian 
University: University International Florida
Major: International Relations and Interdisciplinary Studies 
Gerald was born in Caguas, Puerto Rico. He was raised in Miami, Seoul, and other cities around the world. He earned his Bachelor of Arts in International Relations and Interdisciplinary Studies with certificates in national security studies and cybersecurity, intelligence, and information policy. During his time at FIU, he was able to get involved with the Jack D. Gordon Institute for Public Policy. He was able to partake in the intelligence fellowship, greatly enhancing his understanding of civic engagement through the public sector. Additionally, as part of FIU's Honors College, he was able to work on the State Department-sponsored Diplomacy Lab course, where he researched dis/misinformation occurring within the electoral spaces of certain countries around the world. Seeing the usefulness of the public-private partnerships through working with MITRE and the Atlantic Council as a Digital Sherlock led Gerald to this internship bringing together governmental affairs through Congress and corporations. Last Fall, Gerald was an intern for NASA and worked as a Hamilton Scholar with FIU in DC advocating for JGI's Security Research Hub. He aspires to work one day for the federal government and continue on to pursue a master's degree focusing on the intersection of international relations, defense, intelligence, cybersecurity, and public policy.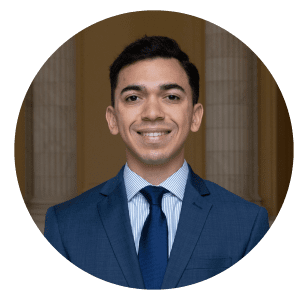 Miles Ward
Heritage:
University: California Baptist University
Major: B.S. Marketing
Since the fall of 2018, Miles has been attending California Baptist University, majoring in Marketing with a concentration in Management. At Cal Baptist, Miles is the Vice President of the CBU Leadership Society and has led multiple diverse team projects during his tenure while operating his own startup clothing company. He is expected to graduate in the fall of 2022.  
Since the spring of 2021, Miles has been a Special Projects and Communications Intern for the Office of Mayor Patricia Lock Dawson in Riverside. There, he had the exciting opportunity to lead projects, communicate complex issues to residents, and be a part of real progress relating to issues he cares about most: homelessness, economic development, and infrastructure improvement.  
 He hopes to use his experience and interest in government to drive innovative and creative solutions to tackle some of our most significant challenges.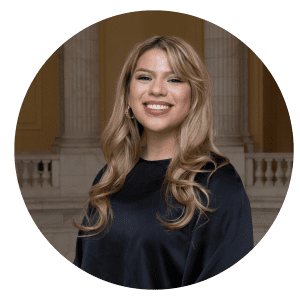 Paola Arellano
Heritage: Mexican-American
University: St. Mary's University
Major: Political Science & Communications 
Paola Arellano is a Mexican-American from the border city of El Paso, Texas, which has allowed her to stay close to her roots. She attends school at St. Mary's University, majoring in Political Science and minoring in Communication Studies. Her booming interest in political journalism stems from the desire to relay non-partisan information to Latino communities in a language they can understand to increase the Latino voter turnout. Paola is a Texas Civic Ambassador for the Annette Strauss Institute at UT Austin. She works towards increasing civic engagement in her community of San Antonio after her experience on local campaigns in the area. Throughout her academic experience, she has also acquired a position as a Kendra Scott Ambassador and was allowed to be involved in philanthropic activities that gave back to struggling women in her community. Paola is excited to begin a hands-on experience on the Hill to learn and develop policy and legislative skills. Paola is a goal-oriented, passionate, and strong communicator looking forward to a career in political communications.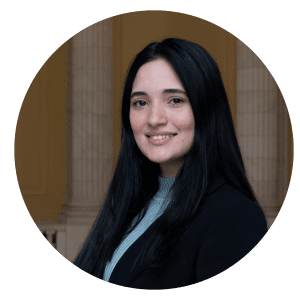 Sheila Lorenzo
Heritage: Cuban
University: George Mason University 
Major: International Relations and Interdisciplinary Studies & Global Affairs
Sheila was born and raised in Cuba. She moved to Virginia in 2016, where she currently attends George Mason University. She is a junior pursuing a bachelor's degree in Government and International Politics with a minor in Global Affairs. During her time at George Mason, she has been involved in the Hispanic Student Association, which focuses on educating, empowering, and celebrating the Latin community. She is also a sister of the Chi Kappa chapter of ChiOmega sorority at Mason. There, she is involved with fundraising for their philanthropy, "Make a Wish." Last spring, she interned with the Planetary Society. She was able to work closely with the policy-making side of Space exploration and research. The Planetary Society helped her realize just how many moving parts there are in government and policy decisions. In the future, she would like to continue giving back to her community by being involved in the policy-making side of government. She enjoys spending time with her family, cooking, and working out in her free time.