CHLI Fall 2022 Global Leaders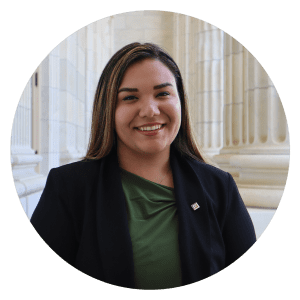 Sophia Emperatriz Jaimes
Heritage: Venezuelan – American
University: Florida International University
Major: International Relations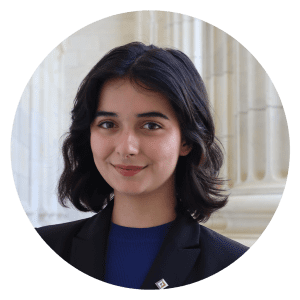 Brianna Palazzolo
Heritage:
University: Florida International University
Major: Political Science
Brianna Palazzolo was born and raised in Fort Lauderdale, Florida. Her upbringing inspired a deep concern for urban policy, which in turn brought her to study Political Science at Florida International University. Brianna is particularly interested in the relationship between urban planning and minority advancement. Her intellectual curiosities earned her a place within FIU's Honors College, where she undertook exclusive courses like "Sex & City Spaces" and "Cultures of the Anthropocene". Both seminars enabled her to investigate the interlocking webs of political, social, and economic considerations in city spaces. Outside of the classroom, Brianna served on the Youth Advisory Board for the City of Sweetwater. As a Board Member, she advocated for the city's robust immigrant communities via the proposal of a no-cost citizenship preparatory course. Brianna also served as a Writing Assistant for the F.I.U. Center for Excellence in Writing. There, she garnered nearly three years of experience in cross-cultural communications from one of the nation's leading Hispanic-serving institutions. Brianna left that position to be a Research Assistant for the F.I.U. College of Law, which later accepted her into the J.D program. In May of 2022, Brianna graduated Summa Cum Laude with her Bachelor of Arts. She now wishes to further her professional experience to better understand how she can advance social welfare in urban spaces.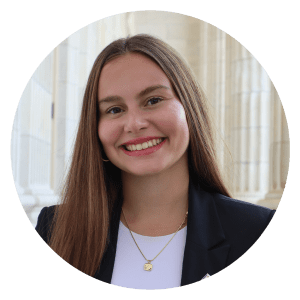 Valentina Pérez Gutiérrez
Heritage: 
University: University of Puerto Rico, Río Piedras' Campus
Major: Political Science
Valentina Pérez Gutiérrez was born and raised in San Juan, Puerto Rico. She is currently a senior in the University of Puerto Rico, Río Piedras' Campus, where she is completing a bachelor's degree in Political Science with an emphasis on Comparative Politics and Government, Law, and Public Policy. She is a member of her college's Pre Law-Society, where she has served as part of the Amendments Committee for the organizations Constitution. She is currently part of the organization's board, serving as the Social Media Manager. After she finishes her bachelor's degree, Valentina wishes to pursue a Juris Doctor's, as well as a master's in Public Administration.
As part of her University's Honor's Program, Valentina is currently completing a thesis on why the electorate in Puerto Rico decides to vote in favor or against female candidates for leadership positions in the Island.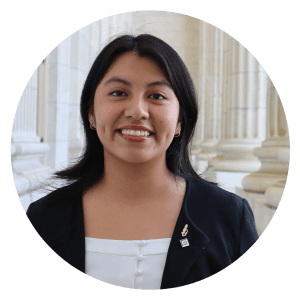 Velgui Perez-Tomas
Heritage:
University: University of Florida
Major: Political Science
Velgui Perez-Tomas is a recent honors graduate from the University of Florida with a Bachelors in Political Science and International Studies. Velgui is from West Palm Beach, Fl and is of Guatemalan and Mexican descent. She is a first-generation college grad and the eldest of five. During her time at the University of Florida, Velgui immersed herself in organizations related to her culture and the legal profession. She held executive roles in the Pre-Legal Honor Society organization and the Hispanic Student Association. Her proudest moments at the University was hosting the Latin American Summit at the University where she worked for two years to get Anthony Ramos to the legendary Dolores Huerta and highlight the Latino achievement to students. Outside of UF, Velgui worked as an Outreach Intern with Florida Community Innovation and the Bob Graham Center on public resource communications and researching domestic violence victims accessibility to legal resources in Spanish. Velgui's passion for the unndocumented community has also pushed her to intern with Cavanaugh Law Group, an immigration law firm where she filed and shadowed attorneys in refugee and naturalization cases. She additionally has helped the Mayan-Indigenous diaspora community in her hometown, where she has tutored and connected mentors from UF to elementary students. Velgui aspires to join the legal profession in the near future which has caused her to partake in numerous scholarships and programs for diverse applicants, like the University of Miami's Legal Scholar program and PRLDEF LatinoJustice Summer LawBound pipeline program. Her interests are to one day work in immigration-refugee law or federal tax law.
This Fall Velgui will be interning with Congresswoman Debbie Wasserman Schultz from Florida's 23rd District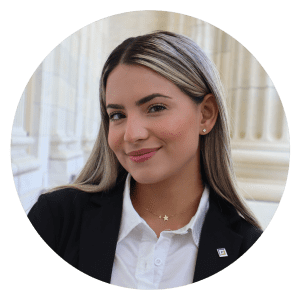 Angela Puma
Heritage: Venezuelan
University: Florida International University
Major: International Relations
Angela Puma was born in Yaracuy, Venezuela, where she lived for fifteen years before moving to Miami, Florida. She moved by herself at a very young age, leaving her family in Venezuela to pursue her studies in the United States. After attending Miami Dade College, Angela discovered her passion for international law and human rights. Therefore, she decided to major in International Relations and minor in Political Science. During her time in College, Angela was selected as Phi Theta Kappa Honors Society Chapter President where she contributed to several events on and outside campus, as well as several organizations. She was involved in the creation of "The Food drive for Venezuela" event, which collected five tons of food and medicine that were well-distributed in the hospitals and streets of Venezuela. Angela was part of many fundraisers and volunteering activities in her local community. She was ultimately selected as recipient of the All-Florida Academic Team Award for her leadership and service contributions. During her last semester at Florida International University, Angela interned for Saleh & Associates Attorneys at Law in Miami. In her personal time, she enjoys reading about most important issues that countries are facing today. Angela believes that all the young leaders have the power to be part of creating a better society for next generations.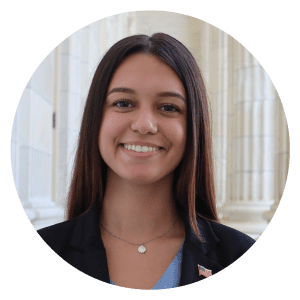 Melanie Rey
Heritage: 
University: Florida International University
Major: Political Science
Melanie was born in Hialeah, FL and raised in Miramar, FL. The eldest child of two Cuban immigrants, she learned the importance of independence and hard work. Learning about her family and their journey navigating a new country and its government, her interest in law and policy began.
A recent graduate from Florida International University (FIU), Melanie earned her bachelor's in political science with a pre-law certificate. During her time at FIU, she joined Phi Alpha Delta, a pre-law fraternity. There she joined the mock trial team, placing 4th in the nation at the PAD National Mock Trial Competition and becoming a team captain in her second semester on the team.
Melanie aspires to attend law school in the following school year to pursue her goal of becoming an attorney. She hopes to be a voice for those who have suffered injustices and believes that her generation will be the generation to ignite long-needed change. In her free time, Melanie enjoys reading, watching movies, and spending time with her family.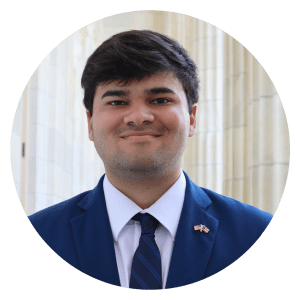 Ángel O. Soto Ortiz
Heritage: 
University: University of Puerto Rico
Major: Industrial Microbiology with a Minor in International Relations
Ángel O. Soto Ortiz was born and raised in Bayamón, Puerto Rico. He earned his Bachelor of Sciences degree in Industrial Microbiology with a Minor in International Relations from the University of Puerto Rico in Mayagüez, graduating summa cum laude. Originally interested in studying Medicine, as an undergrad, Ángel actively participated in various organizations in UPRM, notably the UPRM Pre-Med Circle. As president of this student organization, he led the board in facilitating professional, academic, and extra-curricular resources for student's interested in pursuing health-related careers, helping the next generation of health professionals in achieving their goals while engaging in volunteer work with local hospitals, clinics and numerous underserved communities.
Last Fall, Ángel interned in the Puerto Rico State Senate. Last spring, he interned in the office of Congresswoman Jenniffer González-Colón (PR-At Large). He also interned in the Congresswoman's District Office during the summer. These experiences expanded Ángel's desire in pursuing a career in public policy, with a particular interest in issues relating to healthcare, natural disaster preparedness, and Puerto Rico's political status. Ángel is currently applying to law school and hopes to use his science and health background to impact PR and US public policy.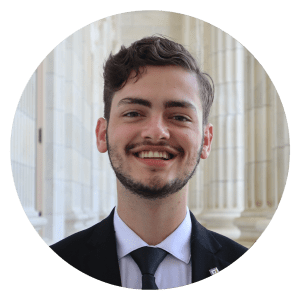 Andres Velasco
Heritage: 
University: Florida International University
Major: History, Economics, and Marketing
Andres Velasco is currently a senior at Florida International University studying History, Economics, and Marketing. Andres has been able to follow his passion for public policy all the way to our nation's capital. He believes that in order to have a deep understanding of how our government operates and makes decision there needs to be a clear understanding of the inter-workings of the legislative process. He is currently an Intern in the House of Representatives and will be graduating in May 2023.